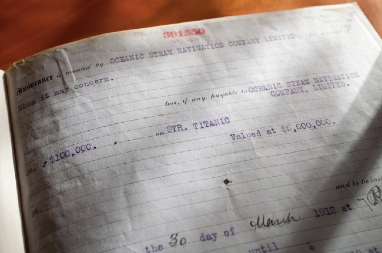 Avila Fine Arts has been working with Doyle New York to offer Atlantic Mutual's insurance policy of the Titanic for auction. It is available for viewing now and will be on auction April 24. This is another piece of the large store of treasures we are liquidating for Atlantic Mutual regulators.
Original Ledger For The Insurance Policy On The Titanic To Be Auctioned In New York
NEW YORK, April 17, 2013 /PRNewswire/ — An important relic of nautical history will be auctioned on Tuesday, April 23 in New York. The original ledger page of the insurance policy taken out on the Titanic by the Atlantic Mutual Insurance Company will go on the block at Doyle New York, one of the world's premier auctioneers. Estimated at $30,000-50,000, the insurance policy was written on behalf of the Oceanic Steam Navigation Company Limited, better known as The White Star Line…The exhibition is open to the public on April 19-22 at Doyle New York, located at 175 East 87th Street in Manhattan. The fully illustrated auction catalogue may be viewed online at DoyleNewYork.com. Interested bidders may call Doyle New York at 212-427-2730.
SOURCE Doyle New York
/CONTACT: Louis LeB. Webre, SVP, Doyle New York, Tel: 917-797-1508, Email: Louis@DoyleNewYork.com
/Web site: http://www.DoyleNewYork.com